Conferences
2020 Kansas Sheriffs Association Fall Training Conference
The 2020 Kansas Sheriffs Association (KSA) Fall Training Conference will take place November 17th, 18, and 19th, 2020 at the Kansas Star Event Center in Mulvane, Kansas (9 miles south of Wichita, Kansas). This is an exciting location for our Conference, and we expect to again set record crowds for the event. In 2019 our Conference saw 300 attendees and we had 148 vendor booth spaces reserved.
As this is an election year for all Kansas Sheriffs and since several have announced their retirement, we do expect several new Sheriffs to attend this year's event. This will be a fantastic opportunity to meet those Sheriffs and re-connect with those remaining in Office.
Additional information can be found in the Vendor Letter, including fees and schedule.
Click here to download the Fall 2020 Conference Vendor Letter.
Vendor Registration is NOW OPEN.
The Host Hotel for our event will be the Hampton Inn in Mulvane.
Please note there is a 2-day minimum stay required.
Hampton Inn Room block for our KSA 2020 Fall Conference is now open for your room reservations. You can either click on the below link or call the Hampton Inn direct at 316-524-3777 and be sure to mention the Kansas Sheriffs Association Room Block.
Click here to make Hampton Inn room reservations.
If for any reason the 2020 Kansas Sheriffs Association Fall Training Conference must be cancelled by KSA the Vendor Registration Fees (minus credit card transaction fee) will be refunded.
---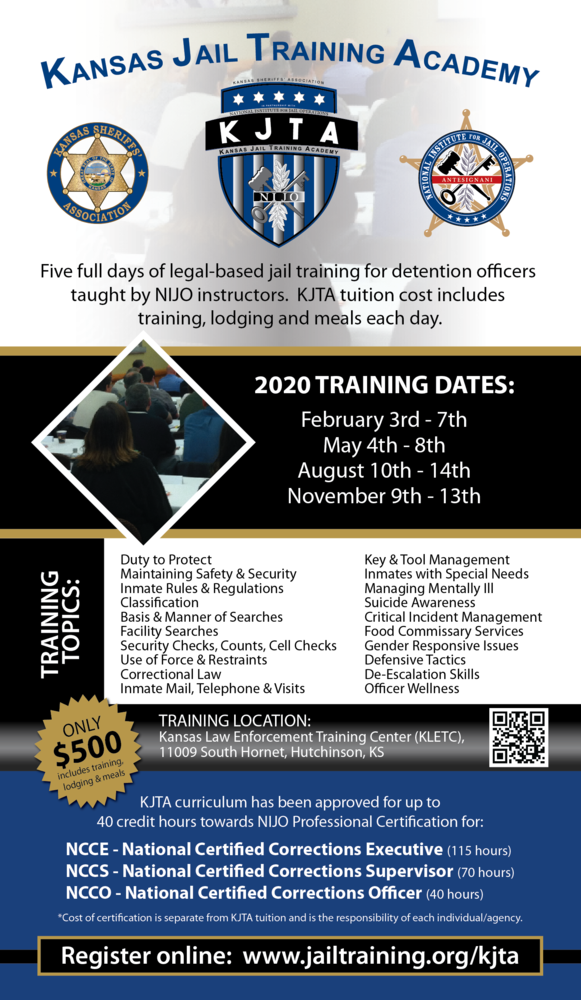 Kansas Jail Training Academy
Five full days of legal-based jail training for detention officers taught by NIJO instructors. JCTA tuition cost includes training, lodging and meals each day.
2020 Training Dates:
February 3rd - 7th
May 4th - 8th
August 10th - 14th
November 9th - 13th
Training Topics:
Duty to Protect
Maintaining Safety & Security
Inmate Rules & Regulations
Classification
Basis & Manner of Searches
Facility Searches
Security Checks, Counts, Cell Checks
Use of Force & Restraints
Correctional Law
Inmate Mail, Telephone Visits
Key & Tool Management
Inmates with Special Needs
Managing Mentally Ill
Suicide Awareness
Critical Incident Management
Food Commissary Services
Gender Responsive Issues
Defensive Tactics
De-Escalation Skills
Officer Wellness
Training Location:
Kansas Law Enforcement Training Center (KLETC)
11009 South Hornet, Hutchinson, KS
Only $500, includes training, lodging & meals.
KJTA curriculum has been approved for up to 40 credit hours towards NIJO Professional Certification for:
NCCE - National Certified Corrections Executive (115 hours)
NCCS - National Certified Corrections Supervisor (70 hours)
NCCO - National Certified Corrections Officer (40 Hours)
*Cost of certification is separate from KJTA tuition and is the responsibility of each individual/agency.
Register online: www.jailtraining.org/kjta
---
Sheriffs, Jail Administrators, and Friends,
The Kansas Jail Training Academy (KJTA) dates for 2020 include February 3rd - 7th, May 4th - 8th, August 10th - 14th, and November 9th - 13th.
The Kansas Jail Training Academy is offering this extensive five-day curriculum filled with training specifically for detention officers. Using NIJO trained instructors, we have collaborated with the Kansas Jail Association to ensure the primary topics needed for line level staff are thoroughly addressed, including complete testing on the material covered so that administrations have documentation of the attendee's comprehension to these critical subjects. Price includes all lodging and meals for the duration of the academy.
All classes will now be held at the Kansas Law Enforcement Training Center (KLETC), 11009 South Hornet, Hutchinson, KS 67501.
We sincerely appreciate the opportunity to work with you and train your detention staff. The challenges most jails face of being short-staffed and dealing with turnover cannot be overstated, which further emphasizes the necessity of investing in our #1 resource in the jails – our staff. Thank you for supporting those that work in your jails by sending them to this training.